Surat Al-Baqarah 282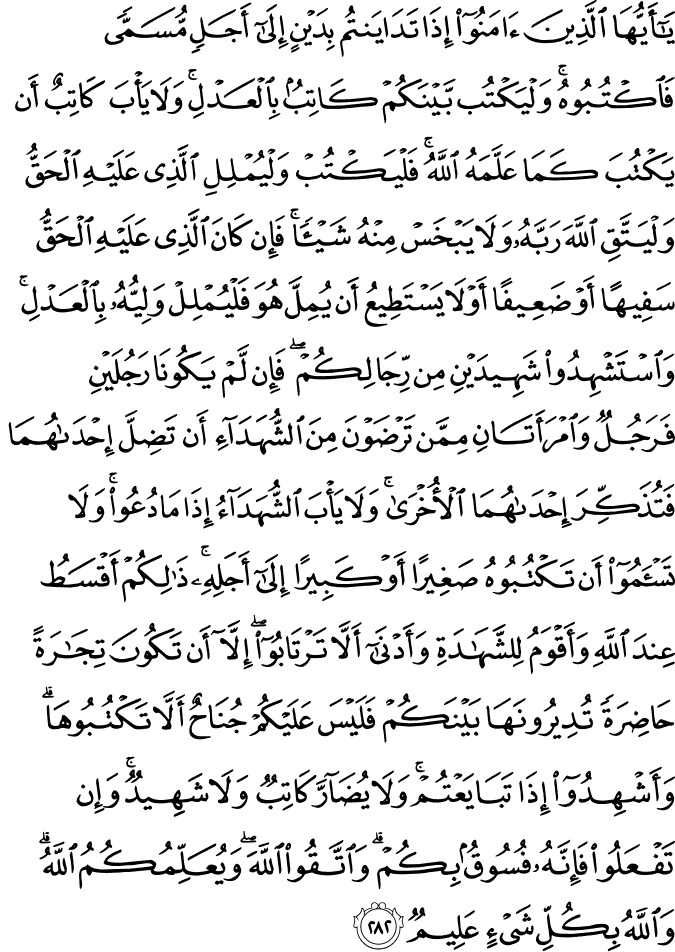 O you who have believed, when you contract a debt for a specified term, write it down. And let a scribe write [it] between you in justice. Let no scribe refuse to write as Allah has taught him. So let him write and let the one who has the obligation dictate. And let him fear Allah , his Lord, and not leave anything out of it. But if the one who has the obligation is of limited understanding or weak or unable to dictate himself, then let his guardian dictate in justice. And bring to witness two witnesses from among your men. And if there are not two men [available], then a man and two women from those whom you accept as witnesses - so that if one of the women errs, then the other can remind her. And let not the witnesses refuse when they are called upon. And do not be [too] weary to write it, whether it is small or large, for its [specified] term. That is more just in the sight of Allah and stronger as evidence and more likely to prevent doubt between you, except when it is an immediate transaction which you conduct among yourselves. For [then] there is no blame upon you if you do not write it. And take witnesses when you conclude a contract. Let no scribe be harmed or any witness. For if you do so, indeed, it is [grave] disobedience in you. And fear Allah . And Allah teaches you. And Allah is Knowing of all things.
مومنو! جب تم آپس میں کسی میعاد معین کے لئے قرض کا معاملہ کرنے لگو تو اس کو لکھ لیا کرو اور لکھنے والا تم میں (کسی کا نقصان نہ کرے بلکہ) انصاف سے لکھے نیز لکھنے والا جیسا اسے خدا نے سکھایا ہے لکھنے سے انکار بھی نہ کرے اور دستاویز لکھ دے۔ اور جو شخص قرض لے وہی (دستاویز کا) مضمون بول کر لکھوائے اور خدا سے کہ اس کا مالک ہے خوف کرے اور زر قرض میں سے کچھ کم نہ لکھوائے۔ اور اگر قرض لینے والا بےعقل یا ضعیف ہو یا مضمون لکھوانے کی قابلیت نہ رکھتا ہو تو جو اس کا ولی ہو وہ انصاف کے ساتھ مضمون لکھوائے۔ اور اپنے میں سے دو مردوں کو (ایسے معاملے کے) گواہ کرلیا کرو۔ اور اگر دو مرد نہ ہوں تو ایک مرد اور دو عورتیں جن کو تم گواہ پسند کرو (کافی ہیں) کہ اگر ان میں سے ایک بھول جائے گی تو دوسری اسے یاد دلادے گی۔ اور جب گواہ (گواہی کے لئے طلب کئے جائیں تو انکار نہ کریں۔ اور قرض تھوڑا ہو یا بہت اس (کی دستاویز) کے لکھنے میں کاہلی نہ کرنا۔ یہ بات خدا کے نزدیک نہایت قرین انصاف ہے اور شہادت کے لئے بھی یہ بہت درست طریقہ ہے۔ اس سے تمہیں کسی طرح کا شک وہ شبہ بھی نہیں پڑے گا۔ ہاں اگر سودا دست بدست ہو جو تم آپس میں لیتے دیتے ہو تو اگر (ایسے معاملے کی) دستاویز نہ لکھوتو تم پر کچھ گناہ نہیں۔ اور جب خرید وفروخت کیا کرو تو بھی گواہ کرلیا کرو۔ اور کاتب دستاویز اور گواہ (معاملہ کرنے والوں کا) کسی طرح نقصان نہ کریں۔ اگر تم (لوگ) ایسا کرو تو یہ تمہارے لئے گناہ کی بات ہے۔ اور
خدا سے ڈرو اور (دیکھو کہ) وہ تم کو (کیسی مفید باتیں) سکھاتا ہے اور خدا ہر چیز سے واقف ہے

---
Al-Nasaa'i (4605) narrated that Muhammad ibn Jahsh (may Allaah be pleased with him) said:
We were sitting with the Messenger of Allaah (peace and blessings of Allaah be upon him) when he raised his head towards the sky, then he put his palm on his forehead and said: "Subhaan-Allaah! What a strict issue has been revealed to me!" We remained silent and were afraid. The following morning I asked him, "O Messenger of Allaah, what is this strict issue that has been revealed?" He said, "By the One in Whose hand is my soul, if a man were killed in battle for the sake of Allaah, then brought back to life, then killed and brought back to life again, then killed, and he owed a debt, he would not enter Paradise until his debt was paid off." Classed as hasan by al-Albaani in Saheeh al-Nasaa'i, 4367.
The Prophet (peace and blessings of Allaah be upon him) refrained from offering the funeral prayer for one who had died owing two dinars, until Abu Qataadah (may Allaah be pleased with him) promised to pay it off for him. When he saw him the following day and said, I have paid it off, the Prophet (peace and blessings of Allaah be upon him) said: "Now his skin has become cool for him." Musnad Ahmad (3/629); classed as hasan by al-Nawawi in al-Khalaasah (2/931) and by Ibn Muflih in al-Adaab al-Shar'iyyah (1/104).
---
Part 1 :
Part 2 :
Part 3 :